Scott Blanc, Vice President and General Manager for the Good Sam Extended Service Plan, talks about the Preferred Provider Network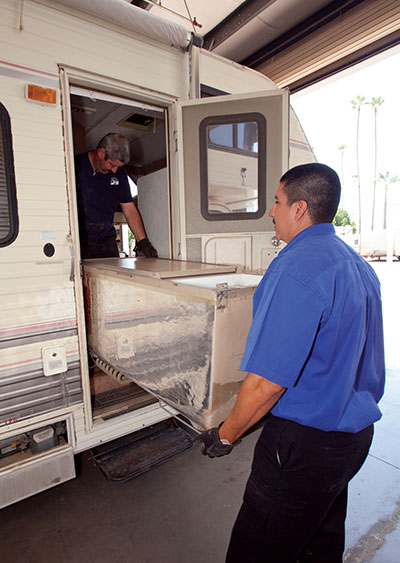 "It's really the final piece of the mechanical breakdown services package, including Good Sam Roadside Assistance and our Extended Service Plan, that Good Sam Club offers, and lets us work with our members to ensure that everything is taken care of correctly, from the initial call to the final bill."
To build ESP's Preferred Provider Network, it took a team to research and catalog almost every repair facility in the U.S. and then compile that information into single database that could easily refer members to the accurate repair shop.
"The database includes information on a shop's hours of operation, whether it is 'factory authorized' to repair components like refrigerators, leveling jacks and furnaces still under warranty, whether it has adequate parking for bigger units. We even catalog if the location has camping facilities or hookups in case a member has to spend the night awaiting repairs."
There is no requirement for ESP members to utilize one of the club's providers, which currently number more than 10,000 nationwide, including 1,000 preferred providers and over 100 Camping World locations. However, only the preferred providers offer members a 10% discount "whether it's on a covered repair or not." And, all preferred providers warrant their work for a full 90 days.
"We wanted to ensure, first of all, that we could direct our members to a repair facility that was capable of taking care of their specific issue, but secondly, that we could direct the customers to people who we had a relationship with, that we trusted and knew would perform the work properly and understand what they were doing," said Blanc.
"While overseeing our Extended Service Plan, we noticed that, unfortunately, when travelers are on the road and take their RV to a facility just picked out of a phone book, negative things sometimes come up — repairs are done unnecessarily, there are 'upsells' that don't need to happen, there are overcharges. And they may or may not be employing the best-qualified people to do the repair."
"We wanted to put together a network where we would be assured that when we sent someone to a preferred provider — whether a Camping World store or an independent repair shop that we developed a relationship with — that it was qualified to do the work and that it would always accept payment directly from us so that the customer would never be in a position of having to write a check for repairs and seek reimbursement from us afterward. And we wanted to make sure that they would stand behind their work — if there was a problem with the repair, we could count on the provider to take care of it."
To date, ESP has provided coverage on more than 200,000 member claims. So next time your rig breaks down, remember to call Good Sam first at 1-888-861-8697 for a recommendation to one of Good Sam's Preferred Providers.